I'm excited that football season is back! Not much goes better with watching a football game than an awesome burger. Today we're going to make simple but delicious California burger. It's easy to whip together while you wait for the game to start.
The first thing that comes to mind when I think of a California burger is freshness. The California burger can mean a couple of different things depending on where you're located, but always means fresh vegetables on a delicious burger.
In the Midwest and East coast a California burger is usually topped with lettuce, tomato, and possibly onions. On the West coast it's often topped with avocado or guacamole. For my California burger, I'm going to take my inspiration from local restaurant The Lion's Tap and make it a double with cheese, lettuce, and tomato. If you'd like, you can also check out my guacamole burger recipe.
Building the California Burger
When picking out your toppings, focus on juicy and fresh. Cut the tomatoes right before you're ready to serve the burger up and make them nice, thick slices. That extra juiciness absolutely complements the burger.
I'm stacking in a slice of tomato and a leaf of lettuce for each of the burgers in this double cheeseburger. The bright colors of the veggies compared to the burger make this thing look awesome. I've also added some fry-sauce (mayo & ketchup) to the bottom of the burger for a little extra flavor.
This thing is an absolute monster. If you're not quite as daring, feel free to make it a single. But if you go with the double, trust me, you'll enjoy it. One thing to keep in mind, you will need to make the patties fairly thin or you'll never be able to bite into it! The best method is grab it with both hands and squeeze it down to make the size a bit more manageable.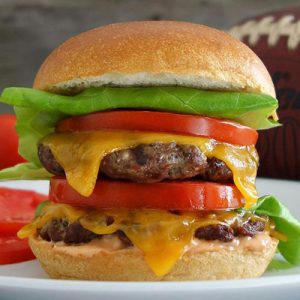 California Burger
Check out this outstanding double California burger, topped off with fresh lettuce and tomato slices. Perfect for grilling!
Ingredients
2

Lbs

Ground Chuck Beef

80% lean / 20% fat - (2x for doubles)

4

Tsp

Salt

1

Tsp

Pepper

1

Tomato

Lettuce

Mayo

Ketchup

4

Hamburger Buns
Instructions
Cut up the tomato and get the lettuce all set to go.

Get your grill/pan/etc hot.

Salt & pepper the ground beef and then divide into 8oz (1/2 lb) portions for singles or you can use smaller 6oz portions for a double burger. Flatten into patties that are about 1/2 inch larger than the buns.

Put a thumbprint in the middle of the patty so it doesn't puff up when cooking.

Grill your burgers about 4min on the first side.

Cook until you reach the correct temp (140F for medium), usually about 2 to 4 minutes.

Add cheese about a minute before you pull the burgers off the grill.

Optional: Add ketchup & mayo (about 50/50) to the bottom of the bun.

Stack up the ingredients (if you keep a lettuce leaf on top it keeps that bun from getting too soggy from the tomato) and enjoy!
View All Our Burgers