Have you ever had crackers topped with jalapeno jelly and cream cheese? They inspired today's burger…
The Jalapeno Burger with Cream Cheese has some heat on it, but its cooled down with smooth cream cheese.
The cheese is so creamy that you don't even need to put it on the grill. You can use spreadable cream cheese or just set a slice or two of it on the cooked burger and it'll become gooey and spreadable.
The Jalapeno Burger with Cream Cheese starts off with some jalapeno jelly on the bottom of the bun. Put it on nice and thick. This adds some spice and a nice texture to the burger.
Then top with the cream cheese and layer your bacon on that. For some extra heat add some jalapenos to the top of the burger. This combination is surprisingly awesome. It's one of my favorite burgers that I've made so far.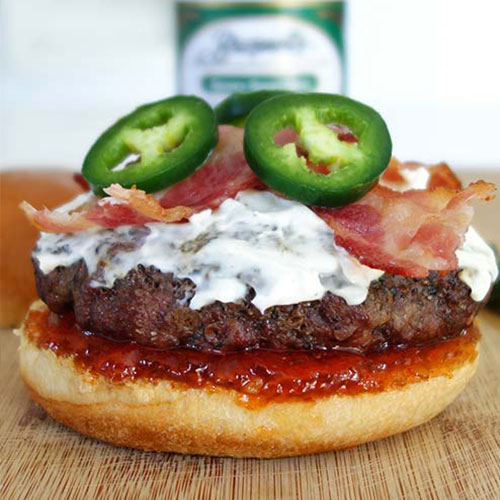 Jalapeno Burger & Cream Cheese
Step-by-step guide to make a Jalapeno Burger with Cream Cheese, Bacon, and Jalapeno Jelly. This burger melts in your mouth with a kick of spice!
Ingredients
2

Lbs

Ground Chuck Beef

80% lean / 20% fat

4

Tsp

Salt

1

Tsp

Pepper

1

Jalapeno

8

Pieces

Bacon

Cream Cheese

Jalapeno Jelly

4

Hamburger Buns
Instructions
Slice jalapeno and set aside.

Get your grill/pan/etc hot.

Mix salt, and pepper with the meat. Flatten into patties that are about 1/2 inch larger than the buns.

Put a thumbprint in the middle of the patty so it doesn't puff up when cooking.

Begin cooking bacon. You can put it in a pan, in the oven for about 15min at 400 degrees.

Grill your burgers about 4min on the first side.

Flip burgers & cook until you reach the correct temp (140F for medium), usually about 2 to 4 minutes.

Coat bottom bun with jalapeno jelly & place burger on top.

Place cream cheese on burger and let it warm if it's not yet spreadable. Then spread.

Top with bacon and jalapeno slices. Enjoy!
View All Our Burgers