Today we're going to make a fancy, gourmet burger that's very easy to make. The truffle burger features the delicious flavor of truffle oil, which we're using to make truffle aioli. Then we're going to top this guy off with some diced bacon and onion. YUM!
Have you ever had truffle oil before? If not you've gotta try it… it's awesome. I've even heard it said that it's a good go-to cheat for chefs to make anything taste good. I've seen a few places that serve truffle fries, definitely worth trying those out with your leftover oil too!
Making the Truffle Aioli
We're going to use our truffle oil to make truffle aioli for the burgers. It's pretty simple to make just mixing it in with some mayo and then spreading it on the bottom bun. I've also taken a little extra truffle oil and mixed it in with the meat to up the flavor on this truffle burger.
Now we've got a pretty fancy burger… you could go with some swiss or a light cheese to top this one off… or you could double down and go with some brie. So why the heck not? We'll put on some brie!
Now how're we going to top off this fancy burger? Bacon, duh 🙂
Bacon!
We've got to keep things classy though, so we're going to cook up the bacon and dice it up with some onions. Just cook up the bacon in a pan and once its done throw it on a paper towel and put the diced onions in with the bacon grease. Dice up the bacon and mix it all together. Now that's an awesome burger topping!
Finally, I've opted to go with an English muffin for a bun on this guy. It mixes things up a bit and tastes great. If you'd like you can toast it or put a little butter on and throw it face down on the grill as well.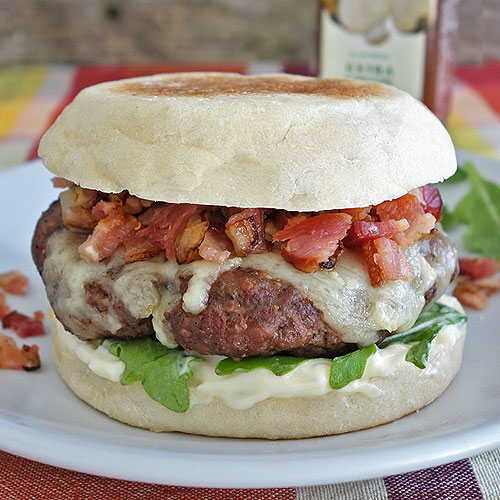 Truffle Burger
The truffle burger features the delicious flavor of truffle aioli and then is topped off with some diced bacon and onion.
Ingredients
2

Lbs

Ground Chuck Beef

80% lean / 20% fat

4

Tsp

Salt

1

Tsp

Pepper

4

Slices

Brie Cheese

1/2

Cup

Mayo

1

Tbsp

Truffle Oil

1/2

Tsp

Garlic Powder

6

Slices

Bacon

1/2

Cup

Diced Onion

Arugula

(or other lettuce)

4

English Muffins
Instructions
Mix truffle oil, mayo, and garlic powder in a small bowl.

Dice onion & get a pan hot to cook bacon.

Once bacon is done move to paper towels and cook diced onion in same pan with bacon grease until it starts browning.

Dice bacon & combine with onion.

Get your grill/pan/etc hot for burgers.

Salt & pepper the ground beef and then divide into 8oz (1/2 lb) portions (or you can use smaller 6oz portions). Mix with a little extra truffle oil if desired. Flatten into patties that are about 1/2 inch larger than the buns.

Put a thumbprint in the middle of the patty so it doesn't puff up when cooking.

Grill your burgers about 4min on the first side.

Flip burgers and add cheese after a couple minutes. Cook until you reach the correct temp (140F for medium), usually about 2 to 4 minutes.

If you want toast the english muffins face down for a couple minutes.

Stack up the ingredients and enjoy!
View All Our Burgers